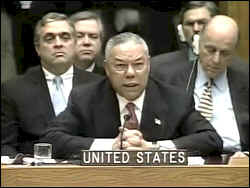 Pictured above in 2003, are the three liars who went before the United Nations with their BS about weapons of mass destruction in Iraq. The three George W. Bush puppets are George Tenet, Colin Powell, and John Negroponte.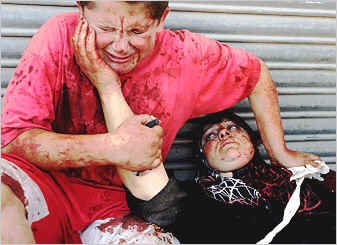 A boy pleaded with his mother to stay conscious as she lay near death from shrapnel wounds in northern Lebanon after their van was struck by an Israeli missile Sunday, 07/23/2006.

Palestinians hold flags as they celebrate the Israeli Supreme Court's resolution to redraw the route of Israel's separation barrier in the West Bank village of Bilin near Ramallah, Tuesday., 09/04/2007.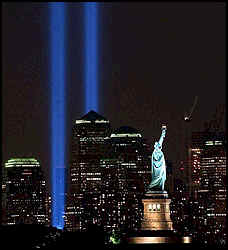 TRIBUTE IN LIGHT
Lower Manhattan, 09/11/2004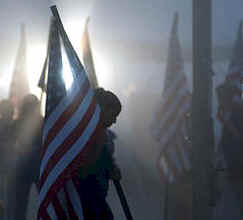 Flags at a sunrise memorial service in Shanksville, Pennsylvania, on 09/11/2004. Hijacked United Airlines Flight 93 crashed in a field there on September 11, 2001, killing all 40 people aboard.
Below, visitors unfold a flag in front of the temporary memorial.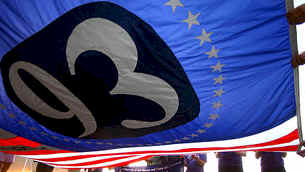 HONORING THE RESCUERS


Two New Jersey firemen waved flags in front of the shafts of light that rose from Lower Manhattan 9/11/2004.
ARIEL SHARON'S GENOCIDE DISGUISED AS DEMOCRACY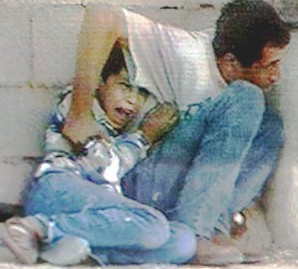 A video frame from France 2 television coverage shows Jamal Aldura and his 12-year-old son Mohammed hiding behind a barrel during Israeli-Palestinian clashes in Netzarim in the Gaza Strip on Sept. 30, 2000. Seconds later, a flying bullet struck Mohammed in the abdomen, killing him. His father was seriously wounded. The video sparked a worldwide outcry.

On April 22, 2004, the world's largest cruise ship, the Queen Mary 2, arrived in New York, steaming into its Hudson River berth for the first time against the backdrop of a hazy Manhattan skyline.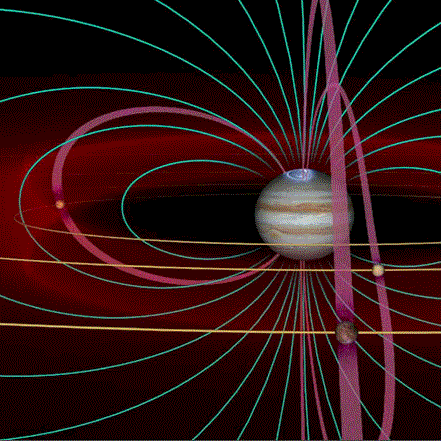 A drawing illustrates how flows of electrons steered by Jupiter's magnetic field connect three of Jupiter's large moons with the upper atmosphere near Jupiter's north and south poles.
Ice Age World


This illustration depicts a future scenario of an Earth undergoing one of thousands of ice ages.
Picture Worth 1,000 Answers


A powerful satellite has captured the best picture ever taken of the infant universe, an image so detailed that scientists said it answers some of the most important questions about the cosmos, including when it was born and how it will probably die.

A giant is born... The Queen Mary floats for the first time off Saint-Nazare in Brittany's Loire estuary. Built in the Alstom shipyards, the giant liner was transferred from a dry-dock to the Chantiers de l'Atlantique for eight months of fitout work. It will be delivered to Cunard.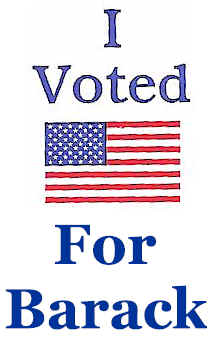 Balloons suspend Kent Couch in a lawn chair as he floats in the skies near Bend, Oregon, on Saturday, July 7, 2007.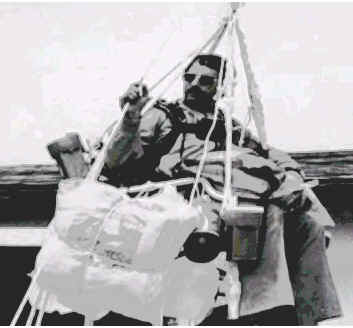 Earth's Birth Hints at Its Death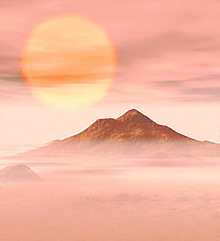 This illustration depicts a scenario of a much hotter, more barren Earth billions of years from now.
SEEN ONE, YOU'VE SEEN'EM ALL?


Thanks to a carefully placed basket stuffed with lettuce and an erect baguette, 57-year-old Robert Reich, a Brandeis University professor,has avoided, um, total disclosure.
Reich, the 4' 10" former head of the U.S. Dept. of Labor under Clinton, posed last week for a 2004 calendar that will raise funds for a Cambridge community television group (the organization will begin selling the $15 item this summer).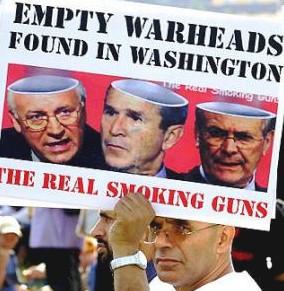 Demonstrators in Johannesburg protest against the US-led war in Iraq
Large crowd and one puppy drop 'dead' in war protest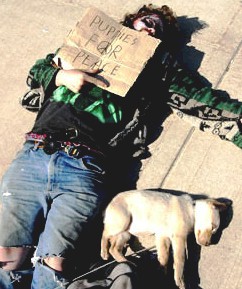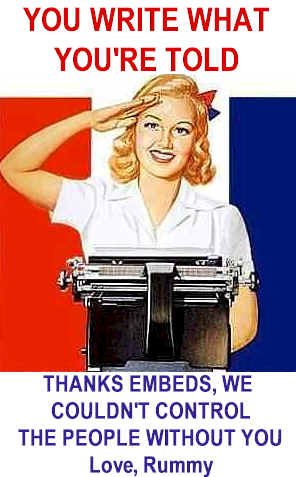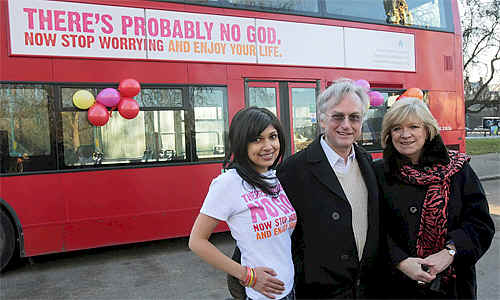 Above: Comedy writer Ariane Sherine, left, Professor Richard Dawkins and Guardian writer Polly Toynbee, right, pose beside a London bus displaying an ad campaign. In January, 2009, 800 buses rolled out of depots across Britain plastered with advertisements cheerfully informing people that "there's probably no God. Now stop worrying and enjoy your life." Sponsored by the British Humanist Assn., the ad campaign is the brainchild of a comedian who had seen Christian messages on buses, looked up the websites of the organizations behind them and found warnings that, as a nonbeliever, she was destined to go to hell.
Police field complaint about busty snow woman


GRASS HAT?


A divot landed on Tom Watson's hat after an approach shot in the 2003 U.S. Open.

The Nun Bun was stolen on Christmas Day, 2005.
The globally renowned cinnamon roll, famous for its resemblance to Mother Teresa, was swiped from the Bongo Java coffee shop in Nashville, TN.
TEXAS-STYLE RAGE AT
REP. TOM DELAY & GOV. RICK PERRY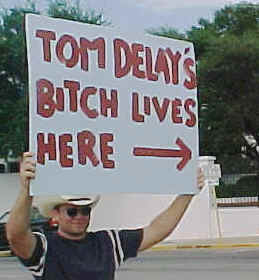 If you are disgusted by the attempt of g.o.p. manservant's to turn our beloved Texas into a one party state, you are not alone. I took the end of the afternoon off to go to Rick Perry's house. My favorite moment was when the ex-male cheerleader himself rolled passed me at the end of the day.God bless Texas, Chris

100 naked protesters cycle and roller skate around London, England, on 06/11/2005.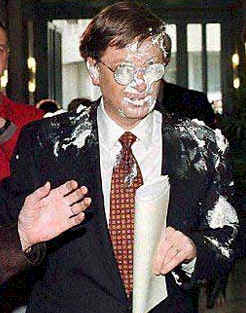 Bill Gates getting a taste in Brussels, Belgium, on 02/04/1998.


Another angle of attack.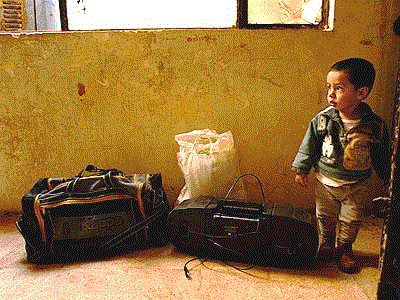 In Baghdad, an Iraqi boy waits for his grandfather after an American bomb landed a block away.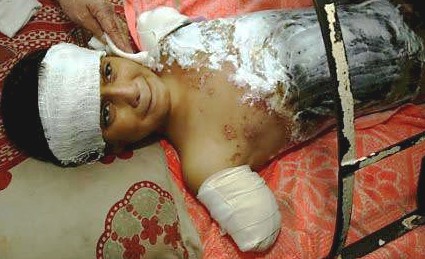 Orphaned Iraqi Boy Becomes Haunting Face of War
Bailing Out Of Baghdad BMW Style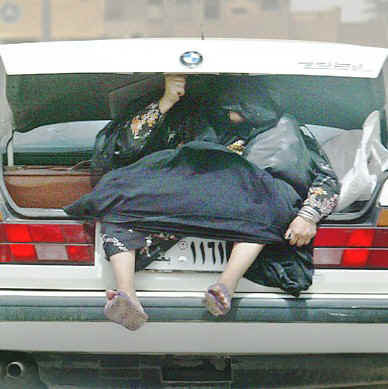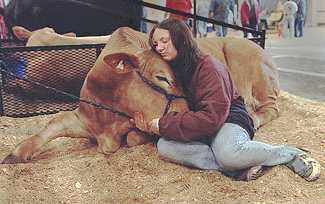 Michelle Honeycutt, 15, holds her animal 'Dipstick', a cross between a Brahman and a Limousin, as they sleep before the show, 3/11/2003, at the Houston Livestock Show & Rodeo.

The Royal Air Force's Red Arrows aerobatics display team perform at the Farnborough Airshow, England Friday July 23, 2004.
SEEING TRIPLE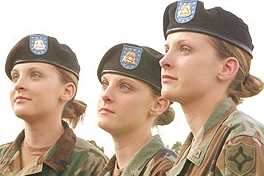 Spcs. Cristina, Jessica and Melissa Buchanan, 19, are identical triplets from the Florida National Guard who have been called to active duty at Fort Stewart, GA.

New day ... The sun rises over a mosque in Baghdad March 21, 2003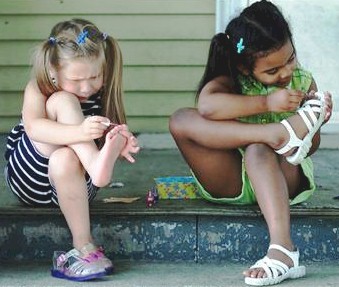 Taylor Yarborough, 4, and next-door neighbor Latisha Cordle, 5, paint their toes with nail polish on Yarborough's front porch in Newark, Ohio.
Above: Tom Cruise and Katie Holmes wed on November 18, 2006 in Bracciano, Italy.
A full-frontal nude of baseball great Joe DiMaggio, showering after a game, is currently on view in the exhibition Hunted and Gathered at the gallery Modernism in San Francisco. The photograph, which was taken around 1940, reveals the naked Yankee slugger soaking wet and grinning happily. It is part of a collection of quirky, anonymous photographs assembled by Robert Flynn Johnson, curator emeritus of the Fine Arts Museums of San Francisco. When asked where he got the photo, Johnson joked, "I have friends in low places."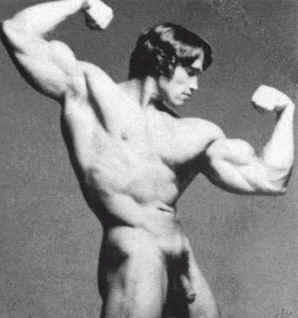 Arnold the presidential hopeful.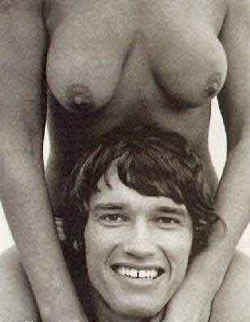 Frenchman Pascal Lino laughs as he passes by nude men during the eighth stage of the Tour de France.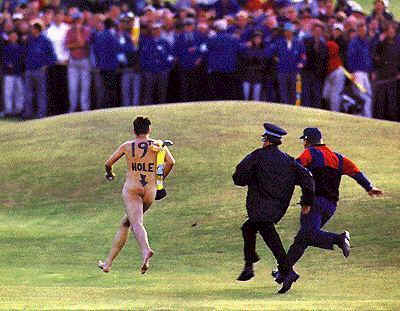 "Keep plucking that chicken" is what Ernie Anastos of Fox affiliate WNYW in New York City likely meant to say, 09/16/2009, …but he didn't and created the catch phrase that was all over the internet the next day. He was bantering with the weatherman when he cheerfully dropped an F-bomb on the air.
Just before the blooper Anastos, an Emmy-winning anchor who has been on New York's evening news for more than three decades told weatherman Nick Gregory, "It takes a tough man to make a tender forecast," a play on an old chicken commercial.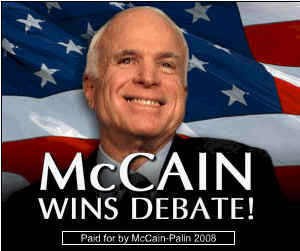 "McCain Wins Debate!" -- put out even before the candidate had announced he was planning to debate.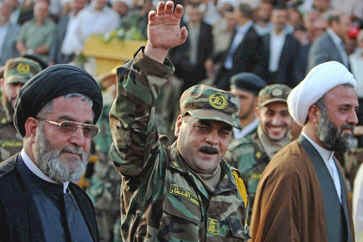 Samir Kuntar waves to supporters upon his release from an Israeli prison July 16, 2008.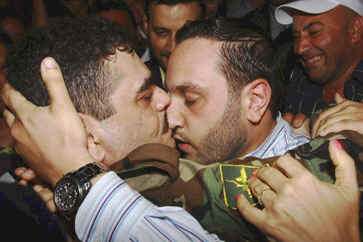 Bassam Kuntar greets his brother Samir upon his release from an Israeli prison July 16, 2008. Bassam was an infant when his brother was incarcerated by Israel.

Samir and his mother, Siham, 71, together after his release.

In this image made available in London, Thursday Feb. 28, 2008, Britain's Prince Harry patrols through the deserted town of Garmisir, Afghanistan, close to Forward Operating Base Delhi, on Wednesday Jan. 2, 2008. Prince Harry has been serving on the front line in Afghanistan with the British Army, according to an announcement by Britain's Ministry of Defence. The Prince, who is third in line to the throne, and is still deployed in the country, has been in Afghanistan since December. The deployment was not reported due to an agreement between the Ministry of Defense and news organizations, including The Associated Press. The story was leaked by an Australian magazine and a German newspaper.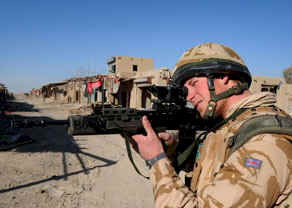 Below: THE THREE DANGEROUS CRIMINALS WHO ARE RESPONSIBLE FOR UNLAWFULLY LEADING THE UNITED STATES INTO WAR WITH IRAQ BASED UPON LIES TO THE WORLD ABOUT WEAPONS OF MASS DESTRUCTION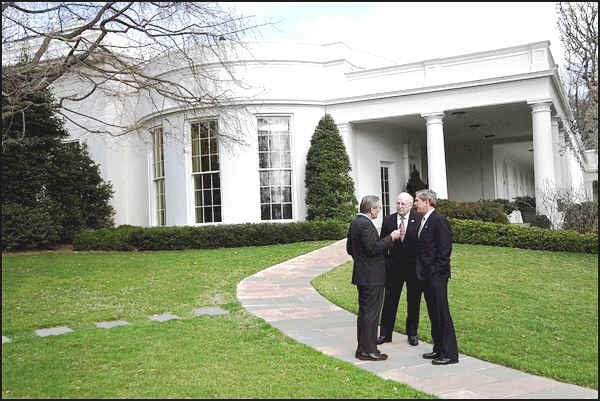 Above: George Bush meets with Donald H. Rumsfeld, left, and Dick Cheney, center, outside the Oval Office shortly after authorizing Operation Iraqi Freedom.


Above: George W. Bush displays another antisocial act of aggression.

Donald Rumsfeld and Saddam Hussein in Baghdad on December 20, 1983.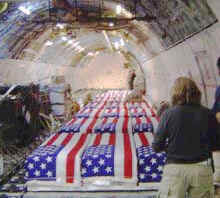 Flag-draped coffins as far as the eye can see are shown inside a cargo plane April 7 , 2004, at Kuwait International Airport, in a photograph published Sunday. The photographer was fired for turning the picture over to a newspaper.

Above, Joanna Hawthorne, the mother of U.S. Army Staff Sgt. Edward Carman, sits in a folding chair she brought to the graveside of her son in the McKeesport-Versailles Cemetery in McKeesport, Pa., Friday, Feb. 9, 2007. For a year after Carmen's death Hawthorne took a chair to the cemetery nearly every day, sat next to his grave and talked quietly. The visits have slowed to once a week, but her vigil continues.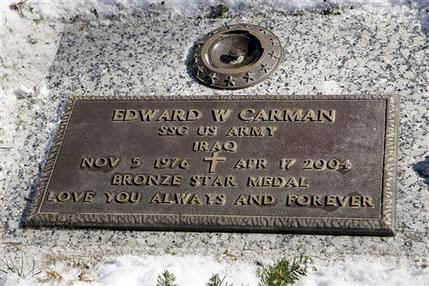 The Army has opened in Texas a $50 million high-tech rehabilitation center that is designed to serve the growing number of soldiers who return from war as amputees or with severe burns. Of the roughly 20,000 soldiers injured since the start of the Iraq war, more than 500 have lost a limb -- many of them in roadside bombings.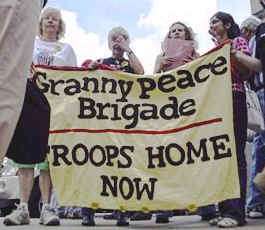 Granny Peace Brigade members and other anti-war demonstrators protest outside a military recruiting center Wednesday, June 28, 2006, in Philadelphia. Ten elderly members of the Granny Peace Brigade were arrested Wednesday after refusing to leave the recruiting center, which shut down several hours early because of the demonstration.

Above: April 6, 2004 - Grief stricken US Marines huddle together in prayer over the body of a dead pal this week.
For a few precious moments of mourning the tough troopers turned from the fury of battle at Fallujah to bid him farewell.
The Marines had fought hard to keep their buddy alive. They had bound his head wound after he was hit by shrapnel, then defied enemy fire to carry him to a first-aid post. But nothing could save him.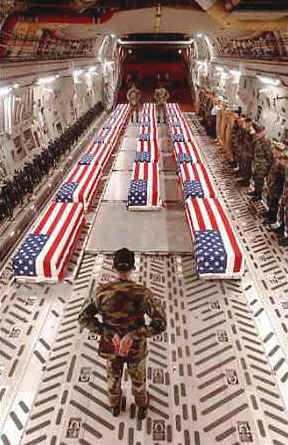 Twenty of America's finest shipped
home in coffins
The US Military Code of Conduct:
1. I am an American, fighting in the forces which guard my country and our way of life. I am prepared to give my life in their defense.

2. I will never surrender of my own free will. If in command, I will never surrender the members of my command while they still have the means to resist.

3. If I am captured, I will continue to resist by all means available. I will make every effort to escape and aid others to escape. I will accept neither parole nor special favors from the enemy.

4. If I become a prisoner of war, I will keep faith with my fellow prisoners. I will give no information or take part in any action which might be harmful to my comrades. If I am senior, I will take command. If not, I will obey the lawful orders of those appointed over me, and will back them up in every way.

5. When questioned, should I become a prisoner of war, I am required to give only name, rank, service number, and date of birth. I will evade answering further questions to the utmost of my ability. I will make no oral or written statements disloyal to my country and its allies or harmful to their cause.

6. I will never forget that I am an American, fighting for freedom, responsible for my actions, and dedicated to the principles which made my country free. I will trust in my God and in the United States of America.

Troops protest John Kerry's October 30, 2006 remark when he told a group of California students that individuals who don't study hard and do their homework would likely "get stuck in Iraq. Photo credit: 1st Brigade Combat Team of the 34th Infantry Division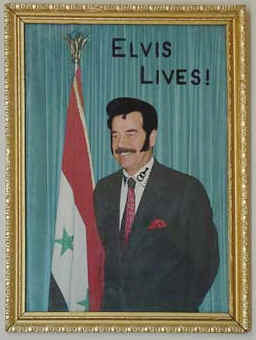 An altered picture of ousted Iraqi President Saddam Hussein hangs on the wall of the U.S. Army's 1st Battalion 22nd Infantry Regiment headquarters in Tikrit, Iraq, on Aug. 17. The picture was later removed.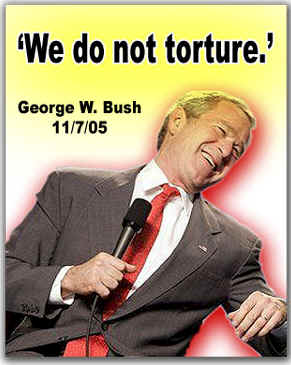 A FEW WORDS OF WISDOM FROM OUR DEDICATED SOLDIERS SOMEWHERE IN THE SAND BOX: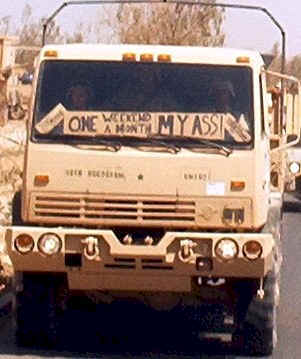 The Army has developed a plan for transformation into an Objective Force that is more responsible, deployable, agile, versatile, lethal, survivable, and sustainable than today's forces.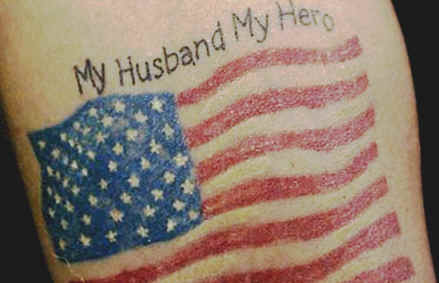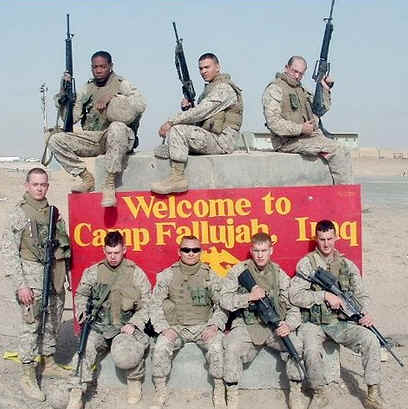 Marines returning from a convoy stop to pose for a group picture at the sign marking Camp Fallujah. Photo credit: 1st Lt. Michael Hallinan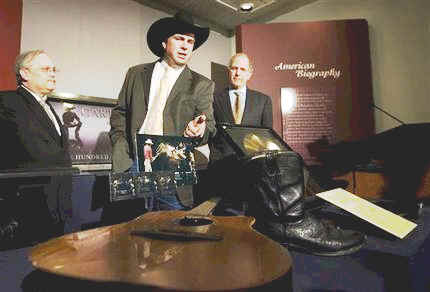 Garth Brooks, points to his restored smashed up guitar, which he donated to the Smithsonian's National Museum of American History, Tuesday, Dec. 4, 2007, in Washington. Brooks donated other objects including his first gold record received for the album Garth Brooks, one of his trademark black cowboy hats, a guitar Brooks smashed during his first NBC TV special in Dallas in 1991 and later repaired, and handwritten lyric sheets for the song, Beaches of Cheyenne.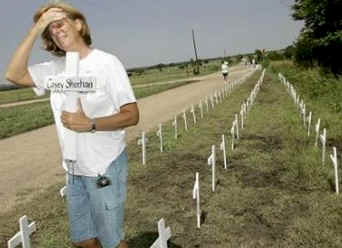 Cindy Sheehan, mother of Casey, KIA in Iraq, stands in protest along the road to George Bush's ranch near Crawford, TX, 08/12/2005.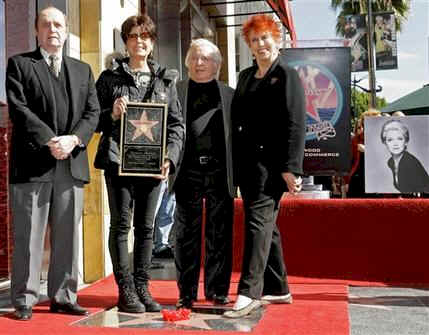 Actors from left, Bob Newhart, Tina Sinatra, Arte Johnson and Marcia Wallace, pose during a ceremony honoring the late Suzanne Pleshette who was honored with a posthumous star on the Hollywood Walk of Fame Thursday, Jan. 31, 2008, in the Hollywood section of Los Angeles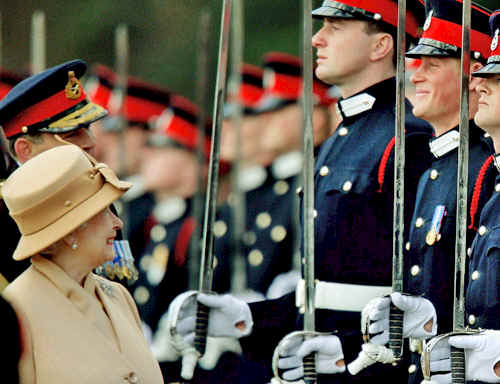 04/12/2006, Britain's Prince Harry, second from right, grins as his grandmother Queen Elizabeth II smiles, as she inspects the Sovereign's Parade at the Royal Military Academy.
08/30/2005, after being rescued from his home by boat, Brian Gayton cries for his grandmother, who he lost during Hurricane Katrina in New Orleans' 9th Ward district.
NUMBER 756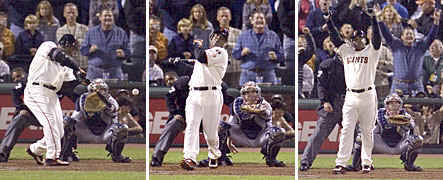 Barry Bonds passed Hank Aaron's home run record on 08/07/2007 in San Francisco.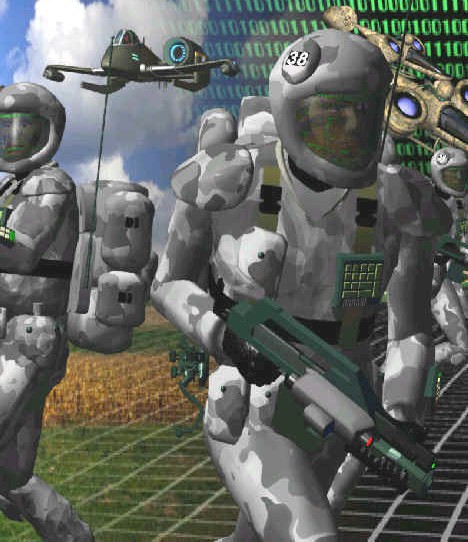 The Institute for Soldier Nanotechnologies,
a joint research collaboration between the Army and Massachusetts Institute of Technology, has formally opened. Founded in March 2002 by a $50 million grant from the Army, the institute's mission is to develop technologies for advancing soldier protection and survivability, officials said, by combining basic and applied research in nanoscience and nanotechnology.
Above, 02/25/2007. She had just won an Oscar for playing the Queen, but Dame Helen Mirren had decidedly unregal rewards in mind - a burger and a snooze.
The 61-year-old's best actress honor for her royal performance was her first Academy Award in a 40-year career.
During one of the after-show parties she was happy to tuck into a mini burger, kick off her Jimmy Choo heels and say: 'All I want to do is curl up with a hot water bottle, read a book and then go to sleep.'
On stage earlier she had dedicated her award to the monarch, telling the star-studded audience: 'For 50 years or more Elizabeth Windsor has maintained her dignity, her sense of duty . . . and her hairstyle.
'She has had her feet firmly planted on the ground, her hat on her head and her handbag on her arm.
'She has weathered many storms and I salute her courage and her consistency and I thank her because if it wasn't for her, I most certainly would not be here. Ladies and gentlemen, I give you the Queen.'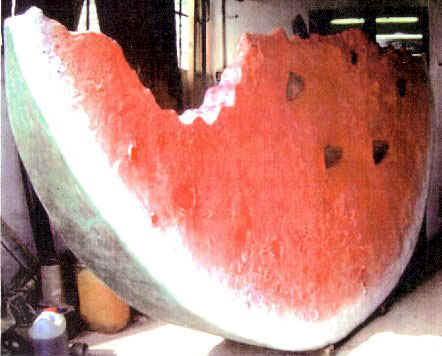 Above: 03/01/2007. In Miami, Florida, Raul Masvidal, one of Miami-Dade's most prominent civic leaders, allegedly siphoned tens of thousands of dollars from the Miami-Dade Housing Agency to buy himself a sculpture of a giant watermelon slice.
Masvidal will become the second developer in recent months accused of stealing money from the Miami-Dade Housing Agency while thousands of poor families scraped by in decrepit rental apartments, public housing or homeless shelters.
According to investigators from the Miami-Dade inspector general's office, Masvidal used county money to buy a $150,000 watermelon sculpture titled Mars.
Masvidal -- who once farmed watermelons in Puerto Rico -- allegedly concealed the purchase by submitting a fraudulent invoice through a failed Housing Agency construction project he was managing.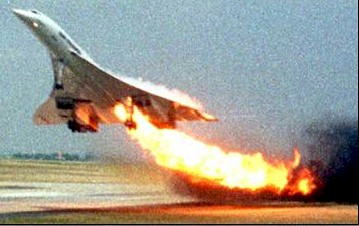 A passenger in another plane snapped this photo of Air France Flight 4590 as the Concorde trailed flames during its takeoff from Paris on July 25,2000. Moments later, the jet crashed, killing all 109 people on board and five more on the ground.


Above: Two Navy S-3B Vikings off the California coast May 1, 2003. President Bush helped to fly the one on the left, designated Navy One for the occasion.

"Death Rattlers" Squadron


U.S. Marine Captain Christopher Niemann of the VMFA-323 "Death Rattlers" squadron flies his F/A-18 Hornet over Kuwait as he returns to the USS Constellation from a mission over Baghdad. War planes from the Constellation continue to carry out bombing missions in support Operation Iraqi Freedom. (Photo by Christopher Niemann / USMC).

Navy Corpsman Richard Barnett of Camarilo, Calif. checks the heart of a young Iraqi boy as other Navy medics treat the boy's older sister after the two children and their family were caught in a crossfire between US Marines and Iraqi soldiers just outside of a Marine encampment in central Iraq on Saturday, March 29, 2003. The boy was not injured. His sister, who received gunshot wounds, was expected to survive. The father was wounded and the mother was killed in the gun battle.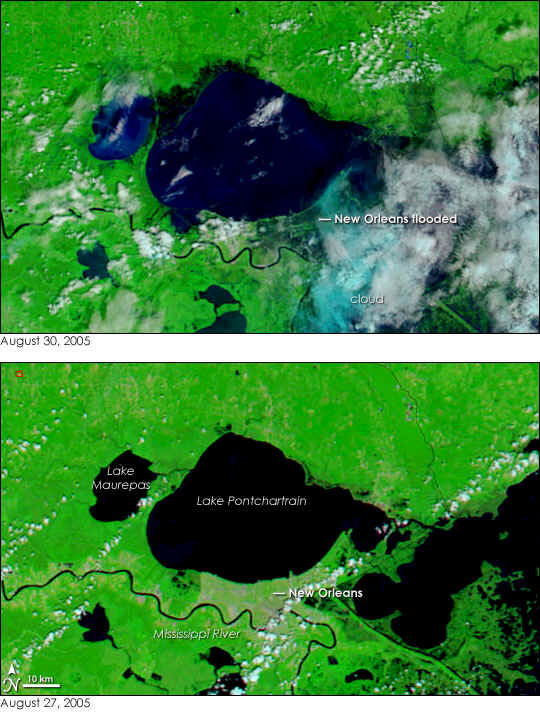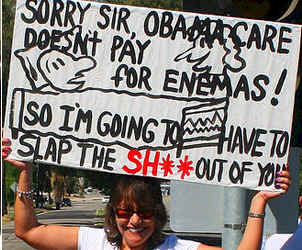 "I am wearing undershorts the same color as my skin, so it gives the slits in my dress the full effect!" - Venus Williams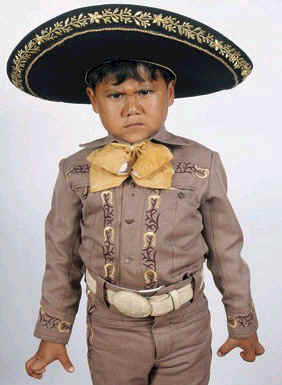 A standout at the 20th Mariachi USA Festival at the Hollywood Bowl was Jose Alfredo Arreola of San Clemente, a singer who's embarking on his professional career at age 3 (and from the looks of it, taking it quite seriously).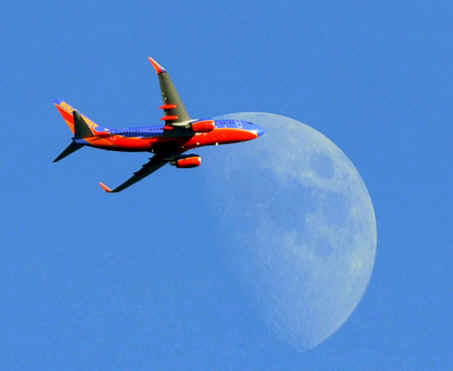 A Southwest 737 flies over Birmingham, AL, 08/28/2009.

An F/A-18F Super Hornet hits the speed of sound. As the plane pushes air away, the temperature drops and water vapor in the air forms a ring cloud around it.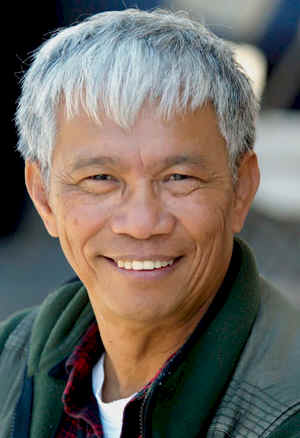 DITH PRAN, Sept. 23, 1942 — March 31, 2008
Mr. Dith, a photojournalist for The New York Times whose gruesome ordeal in the killing fields of Cambodia was re-created in a 1984 movie, The Killing Fields, was 65.
Slavery By Another Name
The re-enslavement of black Americans from the Civil War to WWII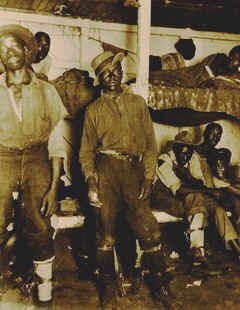 Above: 1907 photo of convict miners in Birmingham, AL
AFRICAN AMERICAN'S HATRED OF WHITES IS ON THE RISE ACROSS AMERICA. HATE FILLED RHETORIC AGAINST WHITES IS OUT OF CONTROL AND WORSENING.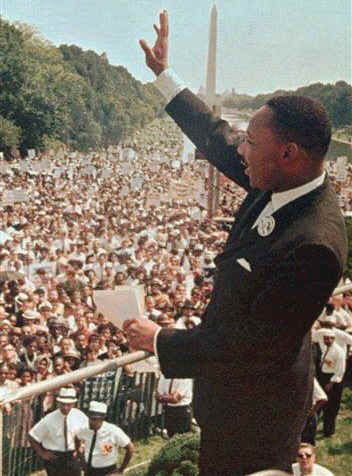 As this August 28, 1968, photograph shows, the majority of Americans who waged war on racism and helped Martin Luther King, Jr., push through the 1964 Civil Rights Act, and 1965 Voting Rights Act, were white.
The same holds true today.
White Americans constitute the majority of those who wage war on racism, and on religious and gender discrimination.

The Rev. John H. Cross Jr., pastor of the Sixteenth Street Baptist Church, points to the spot where four girls lost their lives in Birmingham, Ala. on Sept. 19, 1963. An explosion ripped a large hole in a basement wall and threw the girls' bodies against the wall. Cross who dug through the rubble of his Alabama church looking for survivors of a bombing and then presided over a funeral for some of the youngest victims of civil rights-era violence, died Thursday,Nov. 15, 2007, in Hillandale, Ga.. He was 82.

Pilot Barrington Irving, a 23-year-old pilot, landed his single-engine plane in Opa-Locka, FL, as onlookers cheered Wednesday, 06/27/2007, becoming what he says is the youngest person to fly solo around the world.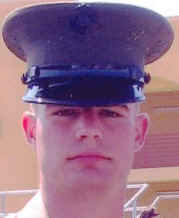 Alek Jeremy Babineaux, 7, is comforted by his father, Marine Sgt. Nicholas Sauer Medlicott, left, and grandmother, Juyne Sauer, right, during the 09/04/2007, funeral for her son Lance Cpl. Matthew Sauer Medlicott, shown above.

Above, seven-year-old Dillan Chancey rode out hurricane Katrina in Biloxi with his mother and father. The family lost everything they owned.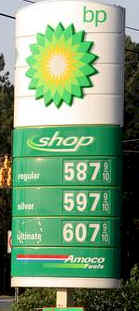 A gas station in Stockbridge, Ga., posts prices for gasoline from $5.87 to $6.07 per gallon Wednesday, Aug. 31, 2005.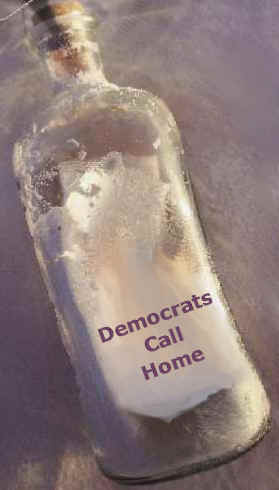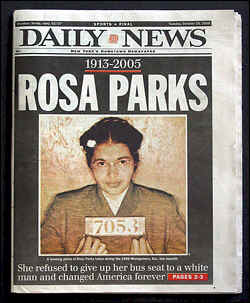 SHE STOOD UP BY SITTING DOWN
Rosa Parks became the first woman to lie in honor in the Rotunda, sharing the tribute given to Abraham Lincoln, John F. Kennedy and other national leaders. Capitol Police estimated the crowd at more than 30,000 but some participants said it was far bigger.
Parks was a 42-year-old tailor's assistant at a Montgomery, Ala., department store when she was arrested and fined $10 plus $4 in court costs. That triggered a 381-day boycott of the bus system led by a 26-year-old minister, the Rev. Martin Luther King Jr.
The U.S. Supreme Court ruled in December 1956 that segregated seats on city buses were unconstitutional, giving momentum to the battle against laws that separated the races in public accommodations and businesses throughout the South.
Parks' act exposed her and her husband, Raymond, to harassment and death threats, and they lost their jobs in Montgomery. They moved to Detroit with Rosa Parks' mother, Leona McCauley, in 1957.
Rosa Parks held a series of low-paying jobs before U.S. Rep. John Conyers Jr. hired her in 1965 to work in his Detroit office. Conyers, speaking during the Washington memorial service, recalled a 1990 visit to Detroit by Nelson Mandela.
The former South African president led the crowd in a chant of Parks' name, "which made us realize that this is an international phenomenon that we celebrate," Conyers said. "Rosa Parks is worldwide."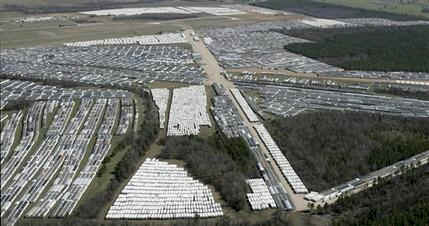 In this March 2, 2007, file photo, some of about 7,200 mobile homes and travel trailers owned by the Federal Emergency Management Agency sit at the Hope Municipal Airport near Hope, Ark. Some of the trailers, purchased by FEMA in 2005 after hurricanes tore through the Gulf Coast, may finally be put to use to help victims of the tornadoes that struck five southern states last week, David Maxwell, head of the Arkansas Department of Emergency Management, said Tuesday, Feb. 12, 2008.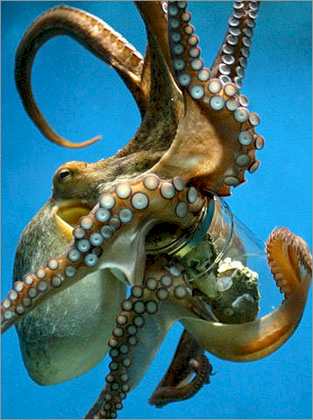 Bite size ... Frieda, a nine-month-old female octopus holds a jar - containing her favorite seafood - between her tentacles in Munich's Hellabrunn Zoo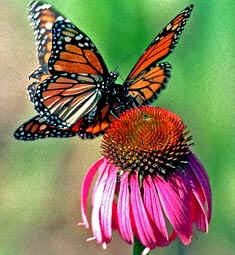 This undated photo provided by CMG Worldwide shows Bettie Page. Page, the 1950s secretary-turned-model whose controverisal photographs in skimpy attire or none at all helped set the stage for the 1960s sexual revolution, died Thursday, 12/11/2008.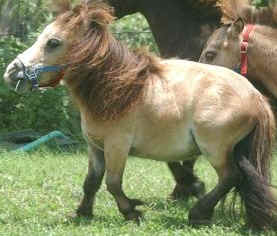 TOBY THE MINIATURE HORSE WAS THE INSPIRATION FOR HEARTS AND HOOVES
THERE'S NO ACCOUNTING FOR TASTE IS THERE?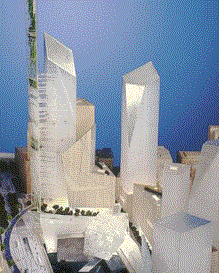 New World Trade Center designed by architect Daniel Libeskind based in Berlin, Germany
A view of Earth from Columbia six days before it disintegrated.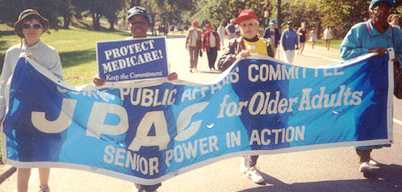 Older Activists Speak Out for Elderly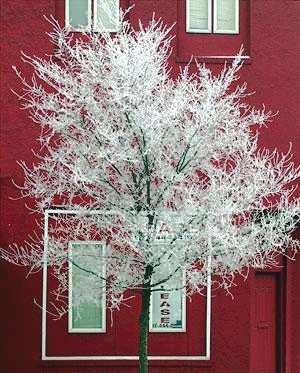 A heavy frost covers a tree in downtown Hamilton, Ohio.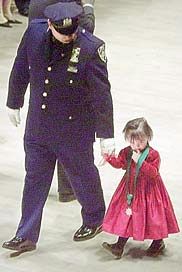 Husband and Child of New York City Police Officer Killed on 9/11
HUMAN SHIELDS
The Face of Iraq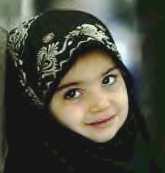 An Iraqi girl attends prayers at a mosque in Baghdad.
Pastor Ikram Ibrahim Mehanni and his flock of 400 Baghdad Christians celebrate their own Easter miracle: surviving the war.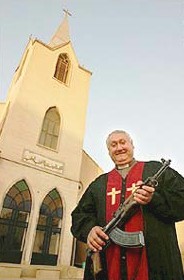 Above: Pastor Mehanni guards his church with holy vengeance. Their Easter Sunday service was guarded by two US Marines armed with M16 rifles at the church door. Unarmed soldiers in the pews, will scan the congregation for suicide bombers. Samir Aha, the secretary of the parish council, is worried that the choir's singing might not be up to the usual standard. "Normally," he said, "I would have been arranging lots of choir practice this week, but I have been too busy firing my AK47 from the roof of my office.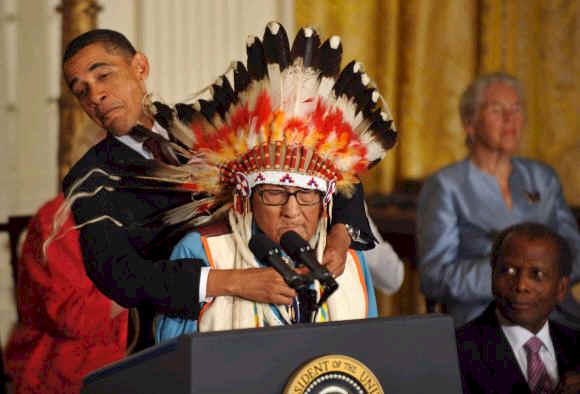 Dodging feathers, President Barack Obama presents the Presidential Medal of Freedom to Joe Medicine Crow - High Bird, at the White House in Washington on August 12, 2009
SCENES FROM THE SOUTH:
The giant pink peanut is back in its place, and
the Elvis peanut has its black pompadour properly groomed (again) after vandals attacked the peanut statues in Dothan Alabama.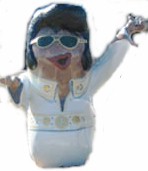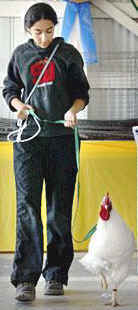 Julia Rice, 14, of Ephrata, Wash. takes her one-year-old White Plymouth Rock rooster, Zeus, for a walk in Moses Lake, Wash.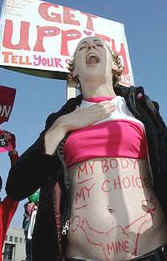 An abortion rights supporter yells at anti-abortion activists in San Francisco, Saturday, Jan. 22, 2005.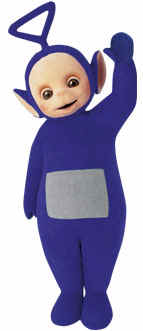 Jerry Falwell 1933 - 2007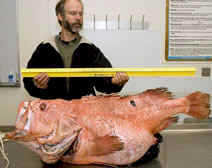 A commercial fishing boat hauled in what may have been one of the oldest creatures in Alaska -- a giant rockfish estimated to be about a century old. The 44-inch, 60-pound female shortraker rockfish was caught in February, 2007, by the catcher-processor Kodiak Enterprise as it trawled for pollock 2,100 feet below the surface, south of the Pribilof Islands in the Bering Sea.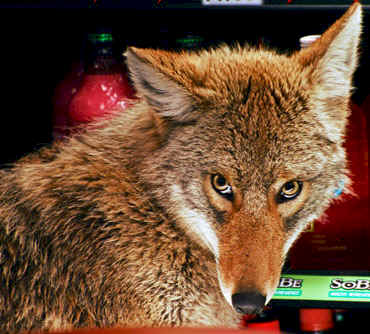 A coyote finds refuge next to the cooler in a Quizno's restaurant in Chicago during April, 2007. The wild animal strolled through the propped-open front door and lay down next to the fruit juice and soda display. Animal control officers captured the predator, whose brethren are normally shy and cautious. This bold canine was given a clean bill of health, and released into his natural habitat outside of the city.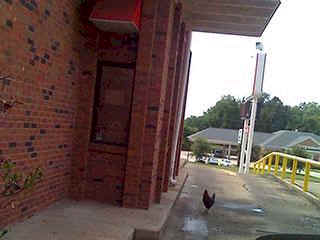 A chicken wandered into the drive-through of the KFC on Indiana Avenue in Vicksbug, Mississippi, September, 2009. Employees at the restaurant say that the chicken lives in the neighborhood and sometimes stops by. The chicken always comes to the drive-through and makes its presence known, they said.

In this photo supplied by Frogwatch, Bob Gonion holds a 40 centimeter (15 inch) long cane toad near Darwin, Australia, on Monday, March 26, 2007. Weighing nearly 1 kilogram (2 pounds), the toad is amongst the largest specimens ever captured in Australia.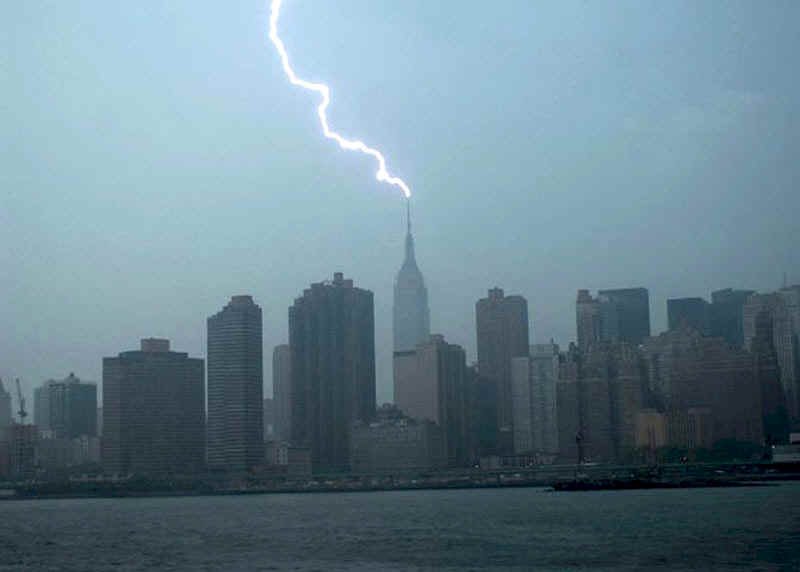 IT'S A SIGN!
Lightening strikes Empire State Building, May, 2007.
Operation Flight Suit
Below: Commander In Chief George W. Bush emerges from the navigator's seat of a Navy S-3B Viking to become the first sitting president ever to land on a carrier.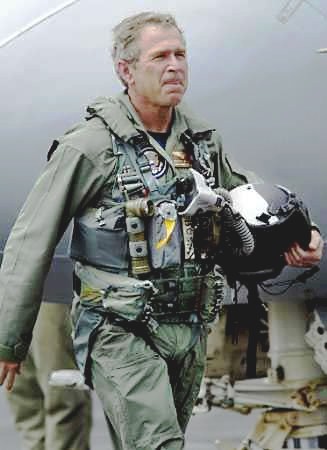 Above, the somewhat sexy "configuration" of President Bush's flight suit indicates that he did not release his parachute harness crotch straps as soon as he was on the deck. Flyers who have worn these parachute harnesses say that it is VERY uncomfortable, if not painful, to walk around that way which "may" account for the grimacing expression on Mr. Bush's face.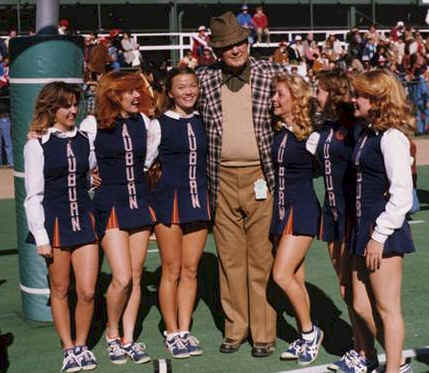 Coach Paul "Bear" Bryant poses with Auburn University cheerleaders.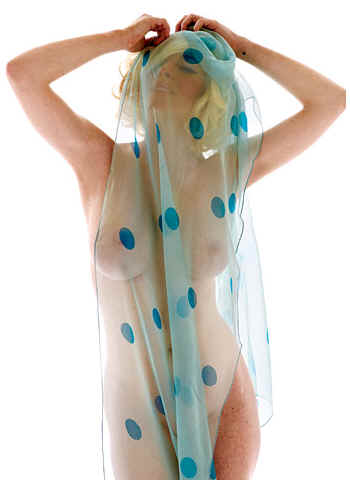 Lindsay Lohan as Marilyn Monroe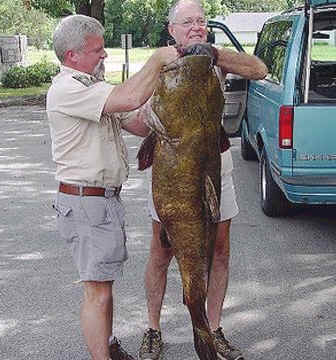 WARNER ROBINS, Ga. -- August 19, 2009 -- Tom Head, 76, almost had to scratch his head after hooking a huge catfish on the Ocmulgee River near Warner Robins.
Head pulled in a 103-lbs catfish earlier this week. The fish was more than 57 inches long and greater than 41 inches in girth. The head itself was almost 16 inches wide, according to the Georgia Department of Natural Resources Wildlife Resources Division. Head used a live bream on a tuna hook when this flathead was caught.
A representative for the DNR said Head used a method called "jug fishing" to reel in the big catch. But because a jug line is not considered sport tackle, the fish is not eligible for state record status, even though it beats the current state record by 20 pounds, the representative said. Bush hooks, trot lines, jugs, baskets, and nets, while popular methods of fishing, are not considered sporting tackle, said the DNR.
Flathead catfish are a non-native fish to the Ocmulgee River. The Ocmulgee River flows from the Piedmont region of Georgia below Lake Jackson to Macon, then winds southeast through the upper coastal plain where it joins the Altamaha River east of Lumber City. It is considered a great river for canoeing and fishing.